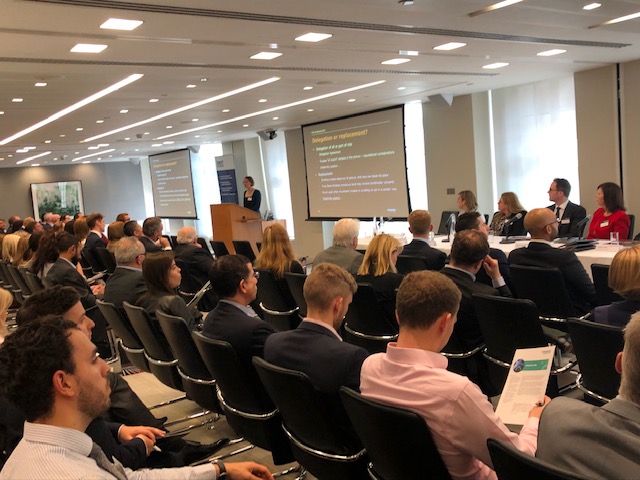 Record Attendance at The Annual Conference of the Loan Capital & Capital Markets Committee
Login or register to continue reading.
It will only take a moment and you'll get access to the TACT publications.
Please note, if registering a new account for the first time, this will require approval by a TACT member of staff before access is granted.
The Annual Conference of the Loan Capital & Capital Markets Committee of TACT – The Association of Corporate Trustees ("TACT"), was hosted by Stephenson Harwood LLP on 22nd May, 2019.
Jonathan Proctor, a partner of Stephenson Harwood LLP, opened the conference and provided a pivotal role throughout the day.
Neil Long, President of TACT and Helena Giles, Chair of the Loan Capital & Capital Markets Committee, spoke about the benefits of membership, the consultations that TACT commented on during the year and they introduced the new user friendly TACT Website which now also includes a members only section.
The first of the three panels of the day, focussed on litigation and contentious issues. Litigation funding solutions were explored, the tale of the phantom administration in the Fairhold securitisation which demystified events and we learned of the new disclosure pilot scheme.
The second panel focussed on successor trustee roles and the opportunities and pitfalls which they can present.  A brief overview of the potential issues to bear in mind when taking on a successor trustee role was provided and then the panel discussed various points including whether it is their experience that a symbiotic relationship between the incumbent and successor trustees can occur or in reality do tensions arise.
In the third and final session, a range of current and topical issues being experienced in the world of corporate trusts were discussed such as IBOR discontinuance and benchmark reform; Securitisation Regulation; Brexit and a brief snapshot of lessons learnt from two recent cases Norske Skog and Golden Bell.
The conference was closed by Helena Giles and followed by a drinks reception kindly provided by Stephenson Harwood LLP.
Click here to see the conference agenda